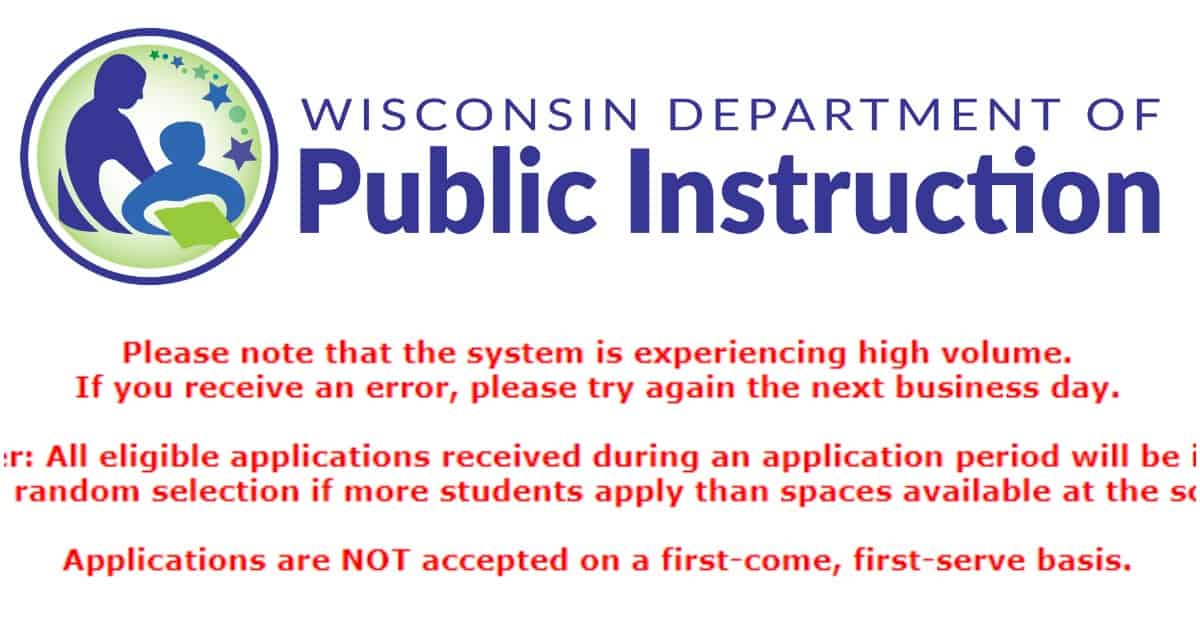 Wisconsin School Choice webpage crashed due to high volume
The state Department of Public Instruction told Wisconsin Right Now that its school choice app page crashed "due to a technical issue resulting from a high volume of visitors accessing the application portal". A local school told parents it was due to a "major coding issue" and it was the "first time they (DPI) have experienced such a long website shutdown".
We contacted DPI to ask why the school choice webpage crashed after hearing from parents that it was down Wednesday morning as well as Tuesday. The web page is now back, but on the evening of February 2, it still contains a message that says, "Please note that the system is experiencing high volume. If you receive an error, please try again the next business day. »
DPI Director of Communications Abigail Swetz initially said DPI was "determining what caused" the school choice web page to crash. "The DPI is currently investigating the cause of the problems. Our team has been working to get the system back online, which it is now," she said.
St. Marcus Lutheran School in Milwaukee has sent a message to concerned parents. Around noon on February 2, 2022, they wrote: "We were hoping that the Department of Public Instruction (DPI) would have resolved its technical difficulties by this time. Unfortunately, we have been informed that there is a major coding issue in their systems and fixing the issue is taking longer than expected. This is the first time they have experienced such a long shutdown of a website…"
St. Marcus noted, "While the Department of Public Instruction has not given us a specific timeline for safeguarding the website, please know that the St. Marcus Enrollment Team is committed to assisting all families of St. Marcus to fully fill out your applications and reserve your places for next year.
What Caused the School Choice Webpage to Crash
When we asked about the schools saying they were told the school choice webpage crashed due to a coding issue, Swetz followed up and said, "When contacting schools who have contacted our team, we have told them that the application portal being down is due to a technical issue resulting from a high volume of visitors accessing the application portal when it first went live on Tuesday.
We previously reported that Tuesday was the first day for parents to enroll in the state's private school choice program. At noon, the state website crashed due to a flood of applications. "Due to high volume, the system is temporarily unavailable," DPI wrote in a note on the page. Enrollment figures from last year showed more students enrolled in Wisconsin's four school choice programs, as parents continue to express concern about critical race theory and rules public school pandemic.
Jim Bender of School Choice Wisconsin said a deeper issue than the website crash is that "the registration and application process makes it incredibly cumbersome" for parents to register for choice.
He noted that "the DPI is legally required to administer the program" and said that "this is not the first time there have been technical problems. Obviously, having a perfectly functioning system is not a priority for the department. »
Bender said the broken webpage is just another "hinder" when it comes to an already complex process for accessing programs. "It puts more barriers for families to find the options that work best for them," he said.
We asked if the Application Portal had ever crashed and what was done to ensure it didn't happen again. these issues have been resolved. The system has worked as expected without any issues for the past two years.
We asked if the DPI was concerned that the issues would deter parents from applying, and she said: "The DPI does not believe this will deter parents from applying or impact participation in the Choice program over the course of the year. school year 2022-23. As a reminder, all eligible applications received during an application period will be included in the random selection if more students apply than places available at the school. Applications are not accepted on a first-come, first-served basis. »
She said DPI cannot say how many applications it has received so far because "the application just opened yesterday and our system had some issues." So, she said, "we are unable to compile this information at this time."
We asked if the deadline will be extended due to the crash of the school choice webpage.
"The application period for Wisconsin's Parental Choice Program extends through April 21, 2022," she said. "The February application period for the Racine Parental Choice Programs (RPCP) and Milwaukee Parental Choice Programs extends through February 21, 2022…DPI does not expect this to impact participation in Choice programs during the 2022-23 school year."
We reported over the weekend that former Gov. Tommy Thompson recently lobbied for school choice for anyone who wants it.
Center Square contributed to this story.